PiNk Solution!!^^
this
SunSilk weighty & smooth leave on lotion
leaves my hair feeling
REALLY smooth and weighty straight that i had an illusion of still having my missed-it-so-much rebonded hair!!
*thanks to bee!!!muackss!!
haha...but talk about yesterday,
when
we( anita,megan,ju,jeannie,sarah,irene-linie-tuya ;p , neeta and chin hoon + me)
were chatting about forgot-what-it-was at the mamak stall,
irene suddenly talk weird and set her gaze towards Ju's direction..........
v
v
v
v
v
v
v
v
v
v
v

JU WAS SEEPING WHILE SITTING THERE
and didn't even wake up although we were pretty loud..
=_=""
we then slowly but steadily take out our camera phones and snapped Ju's picture from every angle...
HAHAHHAHAHAHA...
we moved over silently to the next table of

harwina, ashwin and mahes,
AND JU IS STILL SLEEPING!!!
+_=
the malay guy of one of the stall then said(despite all our effort to tell him not to make noise)
'ah moi! tak mau balik ke?'
then dunno what ju mumbled...
and imagine her face then when our 'deed' broke out...

HAHAHHAA!!!!!!!!!!
then we continue our psycholinguistic...*sigh*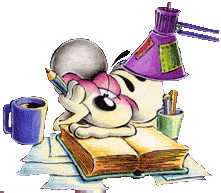 glitter-graphics.com